Shopping Cart
Your Cart is Empty
There was an error with PayPal
Click here to try again
Thank you for your business!
You should be receiving an order confirmation from Paypal shortly.
Exit Shopping Cart
| | |
| --- | --- |
| Posted on January 20, 2012 at 10:09 AM | |
Below I have copied the letter I sent to Andrew Becker. He is the Media Relation for the American Cancer Society.
       Childhood Cancer is NOT RARE...THE CURE IS 
Dear Mr. Andrew Becker,
                I am writing to you to let you know that I am or was a mother of 3 beautiful children at one time. I lost my son to Childhood Cancer
Dec. 29, 2009. Sherod fought his whole life with NF-1 and underwent multiple surgeries in his 16 years of life. On Aug. 4,2008 I received a phone call that changed our life forever. The Dr. told me that my son had Cancer.
  Childhood Cancer may seem "RARE" until you walk into a Children's Hospital and have to stay with your child for weeks at a time on the Pediatric Oncology floor. At that time you replace the word "RARE" with "NORMAL", because you have just began a new "NORMAL from here on out whatever the outcome may be.
  I know you have received a lot of hate mail….because of your comments. I don't hate you, I just  know you don't understand what it's like to be in my shoes and I hope you never do.
  You are a Corporate Man and yes you have a heart. You have a wife a family and you go on vacations and you do family stuff and I'm sure you have lost something or someone at one time and know what that feels like. When it is your own Child it is so much different. Your world is turned upside down. At times you don't even know if your coming or going or where you have been. Shoot I have to remind myself to get up every day and breath in and out still and get ready for work. I still run from the fact that my son has been gone for 2 years. I keep so busy sometimes I lose track of the days.
  You know when my son passed away I had several life insurance policies and I put it all into the Dino Doozer Foundation that he and I started together to help kids just like him. I didn't go to Hawaii like I've always wanted. I didn't buy anything for myself. I put it all into the Foundation to help kids I didn't even know.
 Mr. Becker I have been through hell and back working sometimes up to 3 jobs while my kids were growing up and I missed a lot. When Sherod got sick I still had to work 40+ hrs a week and had small jobs on the side just to make ends meet because of the medical bills. In the last 4 years I on average sleep maybe 5 hrs a night on a good night because that's what I'm use to. As a parent who has lost a child take it from me. A bald Barbie…Mattel can earn so much from this and those dolls would be flying off the shelves. The parents would be teaching them and talking to them about the meaning of this "Bald Barbie". As far as money….hello Mattel could donate the money to different organizations just from the sales of those Barbie's.  I hope you understand that a lot of people are talking about not raising money for the Relay for Life because of what you have said….My son enjoyed his one and only time going to the Relay for Life. I remember the day we walked the track together. I get luminaries every year just for him.
  Everyone makes mistakes Mr. Becker just make your mistakes right and let's move on. Remember your not a bad man your just a man who made a mistake….everyone makes mistakes. Your only looked down upon if you refuse to fix what you did or said wrong.
   I run a very very small local Foundation in Longview Washington and I still work 2 jobs, and run the Dino Doozer Foundation. I make less than 35K a year. I now have 2 children and still raise awareness for NF and Childhood Cancer. I may not have the money you do Mr. Becker but I have a lot of HEART and that is what keeps me going. If you want a better understanding of what really goes on in my world please feel free to contact me at any time day or night.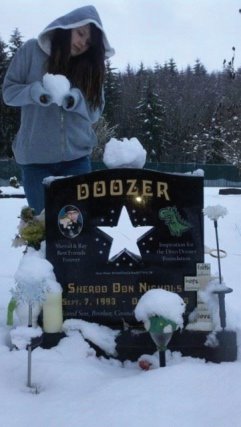 I have attached a picture of my youngest her name is Elizabeth. This is a picture of her next to her brothers grave. It snowed today for the first time in year and he isn't here to go out and play in the snow with her because he was taken away by cancer…..it's not as "rare" as you think.
   Thank you for taking your time to read my message to you. I hope you enjoy your day and please remember I don't hate you and I don't think you're a bad person. I just think you need a chance to see things from a different point of view. You may want to speak with your wife and get her point of view on things and how she feels if she was in say my shoes. Let her read my blog on dinodoozerfoundation.org then ask her how she feels…her real feelings.  
Categories: A letter to Andrew Becker, Getting the Word out !
/